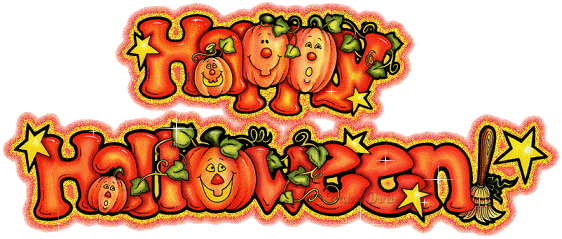 glitter-graphics.com
Today we celebrated Halloween a few weeks early. The kid ( yep, this year was an audience of one parent, one kid, still fun) heard two stories (
Click Clack Boo: A Tricky Treat
by Doreen Cronin and
Boo to You
by Lois Ehlert), had some fun with scarves and a visit from the Five Little Pumpkins ( who will making a stop at tomorrow's Mother Goose on the Loose).
Here are some of the songs we did today-
Pumpkin, Pumpkin
added 7-29-98
Original Author Unknown
Pumpkin, Pumpkin sitting on a wall,
Pumpkin, Pumpkin tip and fall,
Pumpkin, Pumpkin Rolling down the street
Pumpkin, Pumpkin Trick or treat
Five Little Pumpkins
Five little pumpkins sitting on a gate
The first one said " Oh my, it's getting late!"
The second one said "There are witches in the air".*
And the third one said " We don't care."
The fourth one said " Let's run, run, run."
And the fifth one said " It's Halloween fun"
Then Woooooo went the wind, and out went the lights.
And the five little pumpkins rolled out of sight.
* In case one feels the use of "witch" is going to be a problem, I have changed it to " There's a chill in the air".
Our next Storytime for 2 and 3 yr olds will be Monday, November 3 and Monday, November 17 at 10 am.
Happy Halloween!